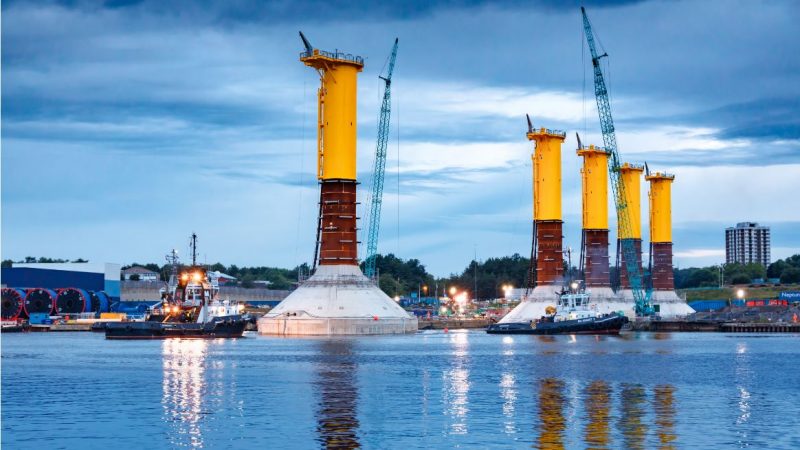 Project:
Blyth Wind Turbines
Agent/Clients/Third Parties:
Osprey / BAM Nuttal Ltd / EDF
Workscope:
Operation Type: Provision of Drydock & Facilities
Description of Scope: Lift 10 x Tower Sections (2 x per Gravity Base). Max Gross Tower Section Weight 353T - Barge to Quay to SPMTs. Tandem Lift to Concrete Gravity Bases In Drydock
Overall Project: Located in Blyth Northumberland, the project is composed of five wind turbines (41.5MW). Each GBF is made up of 1,800m3 of concrete and weighs over 15,000 tonnes. The total height of the structures is approximately 60 metres.
Vessel:
Barge & Tugs
Date:
2015-2018
Services provided:
Provision of Drydock & Facilities
Pre-arrival Planning
Project Management
Logistics Support
Complex Lifting Services
Marine Support
Releasing Seafastenings
Discharging to Quay SPMTs
Click here to find out more.
Shepherd Offshore Comments:
"Shepherd Offshore offered a high level of planning & coordination. With additional time setting up a customised lifting arrangement working at height. This required a complex Heavy Lift, with a particular focus on protection of furniture. The lifts barge to Quay SPMT was then transferred by SPMT to over cranes at the drydock to be top and tailed, then lifted into the drydock concrete gravity base. Overall, efficient and safe performance supporting a ground breaking new design in offshore wind turbines. "

General Manager, Shepherd Offshore
Testimonial:
"Thanks for your support and professionalism over the project, hopefully we'll see each other again with more GBFs".
Senior Agent BAM Nuttall Limited