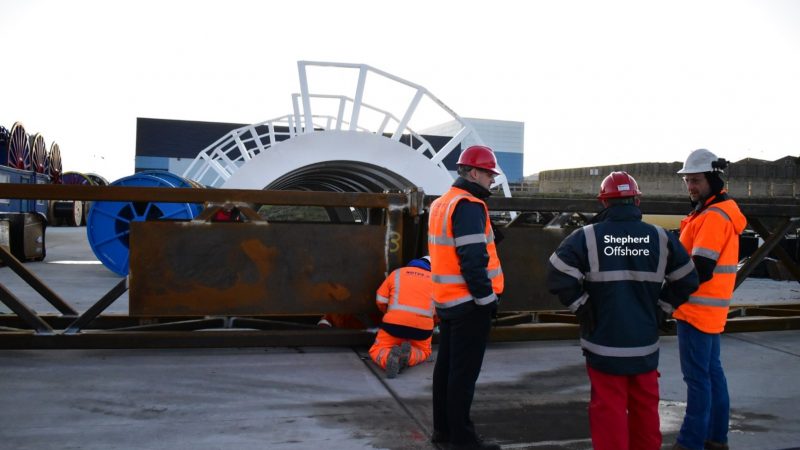 Project:
LRJ 30551
Agent/Clients/Third Parties:
Lift Rite Engineering Services Ltd
Workscope:
Operation Type: Plant Hire
Description of Scope: Spreader Beam Test Lift
Vessel:
N/A
Services provided:
Pre-arrival Planning
Mobile Crane Support
Plant Hire
Complex Lifting Services
Shepherd Offshore Comments:
A unique operation that gave Shepherd Offshore Ltd the opportunity to demonstrate our capability at Neptune Energy park. The objective was to create a test environment for our client to allow the bespoke Spreader Beam to be demonstrated.

Shepherd Offshore Operatives worked closely with Lift-Rite personnel to arrange the delivery and assembly of the Spreader Beam and test equipment.
Operatives positioned the CC4800 crane into the test display position at Area J.

Working with Lift-rite personnel, the bespoke rigging arrangement was assembled with technical drawings. The area was prepared for spectators to safely whiteness the test lift, which was completed by Shepherd Offshore Lifting Operatives in a professional manor, in accordance to the client's specification.

Testimonial:
Supervisor's management, assistance and communication: 4/5
Quality of service received from the operations personnel: 4/5
Quayside set up & Housekeeping: 5/5
How would you rate our HSE performance? 4/5
Was the job done accurately against the scope? 4/5
Staff's professionalism and aptitude: 4/5
Staff's ability to communicate and provide quality support: 4/5
How will you rate our overall quality during the full work scope? 4/5
Would you be confident to recommend SOS to others? 4/5