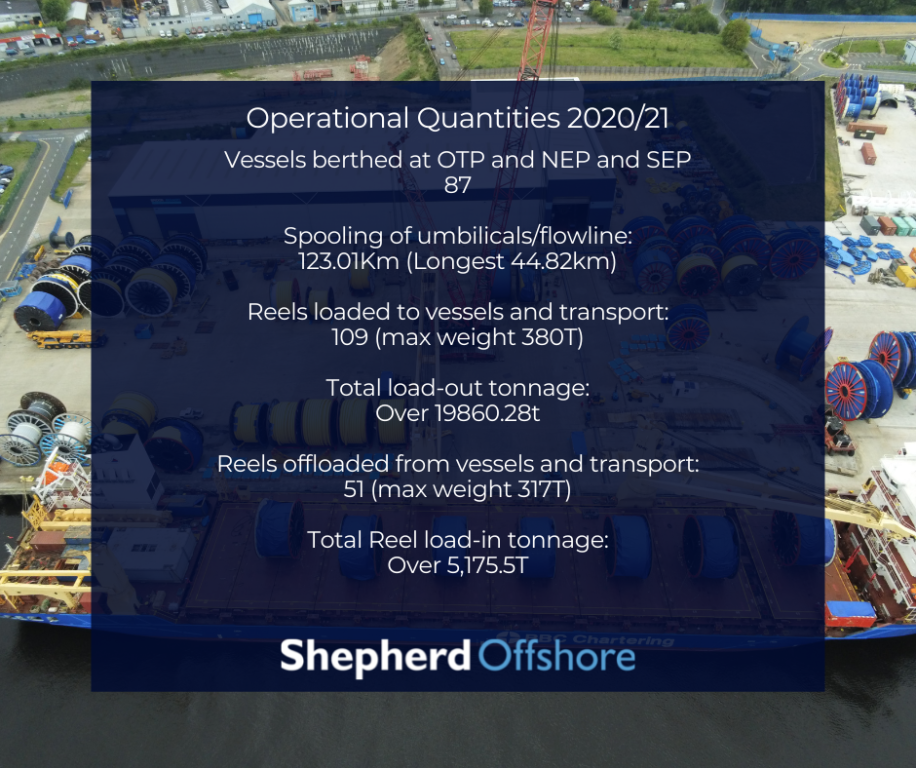 Operational Quantities 2020/21
Shepherd Offshore would like to thank all company employees, clients, and stakeholders we worked with throughout the 2020/21 operational year. Reflecting on the past year, some of our operational quantities included:
87 vessels berthed at OTP and NEP and SEP
Over 123.01km umbilicals/flowline spooling (longest 44.82km)
109 Reels loaded to vessels and transport (max weight 380T)
Total of over 19860.28T load-out tonnage
51 Reels discharged from vessels and transport (max weight 317T)
Total of over 5,175.5T load-in tonnage
Without having a strong work ethic in-house from our operational and office staff, we would not have achieved the quantities presented. As a Company, we continue to deliver success and offer project solutions through a range of different services.
Starting the new operational year in a global pandemic is an unusual time. We continue to support the industry and are working to the government guidelines to fulfil our client's scope of work. Shepherd Offshore are excited to see what 2021/22 brings.
For any project enquiries, please email us at headoffice@shepherdoffshore.com or call us on +44 (0) 191 262 9614.