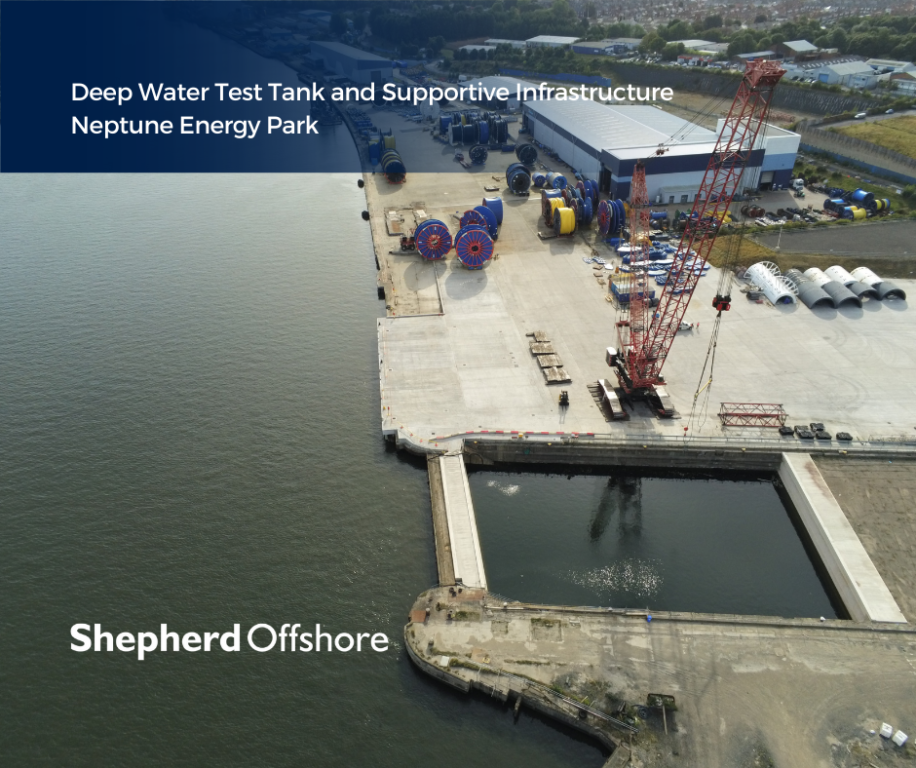 Shepherd Offshore announce Neptune Energy Park Deep Water Test Tank is now operational
Shepherd Offshore is one of the UK's leading service providers and developers predominately in the offshore industry. Developing and operating a wide range of facilities, while supporting world-class manufacturing within the North East of England based on the North Bank of the River Tyne. Developing for over 40 years, Shepherd Offshore are excited to announce some new assets and infrastructure to the ever-expanding portfolio.
Working, with local enterprises and partners, Shepherd Offshore is delighted to announce that The Deep Water Test Tank located at Neptune Energy Park is, now operational. The Neptune Enterprise Zone is one of the UK's six CORE (Centre for Offshore Renewable Engineering) sites. The Deep Water Test Tank will provide the Subsea Offshore Marine industry with world-class capabilities to assess new products, Remotely Operated Vehicles (ROV), in appropriate conditions prior to operational use.
The Deep Water Test Tank involved closing the dry dock at this location, creating a closure wall and partial infill to separate the test tank from the River Tyne. Built to a length of 56m, the width of 38m and up to 12m deep, the Test Tank has a volume of 25.600m3 to the top edge of the tank. The structure is further enforced by two concrete retaining walls.
Working with the engineering company Fairhurst for approval, design and implementation, Shepherd Offshore are now fully operational with the issue of the Water Retention Certificate. Planned since 2014 and constructed over 2020 and 2021. Shepherd Offshore have further added a new 3000m2 concrete quay, adjacent to the Deep Water Test Tank. Further development was also completed for a new heavy load-bearing area, alongside the Deep Water Test Tank. This has resulted in the cc4800 Crawler Crane, with its 800SWT and 78m reach, having operational capabilities alongside the Deep Water Test Tank.
It is envisaged that the new capabilities will add further value to a site that has a long history of successful projects including the construction of the EDF Blyth Offshore Demonstrator test towers and floating gravity bases foundations between 2015 & 2017 with BAM Nuttal Ltd.
This project could not have been possible without the joint efforts, consideration and support of the North East Combined Authority (NECA) on behalf of the North East Local Enterprise Partnership (NELEP). This project contributed to supporting the creation of new, sustainable, private-sector jobs and as such received funding contributions from NECA through the Regional Growth Fund (RGF) and Local Growth Fund (LGF).
Charles Shepherd the Managing Director of Shepherd Offshore had this to say on the Deep Water Test Tank: "Shepherd Offshore's plan is to remain supportive to the River Tyne North Bank Strategic Development Framework Plan (SDFP) by continuing to develop critical infrastructure and capacity, allowing the attraction of world-class manufacturing and job creation. We believe the Deep Water Test Tank will continue to enhance the Neptune Energy Park facility and the regions expertise. Consequently, attracting even more businesses across sectors. Shepherd Offshore Working with NELEP and NECA furthermore show a region unified, working harmoniously for growth in skills and expertise."