Shepherd Offshore working with Mammoet to discharge a Transformer
Shepherd Offshore is one of the UK's leading service providers, developing and operating facilities while supporting world-class manufacturing within the North East of England based on the North Bank of the River Tyne.
The success and influence of Shepherd Offshore are shared across the North East economy. For over 40 years, we have made a significant contribution to the continued growth of the offshore and energy sector along the River Tyne, with direct and indirect beneficial impacts on the local economy. Developing local infrastructure with high-value capacity and capabilities, we support services attracting the offshore with industries like power generation to the River Tyne.
The company has now played an integral part in partnership with Mammoet, in discharging a transformer destined to be used in the National Grid. The National Grid needed to replace an old transformer at Stella West power station, which has now reached the end of its life. Shepherd Offshore has worked tirelessly to help discharge a 128-ton transformer, along with several auxiliary items.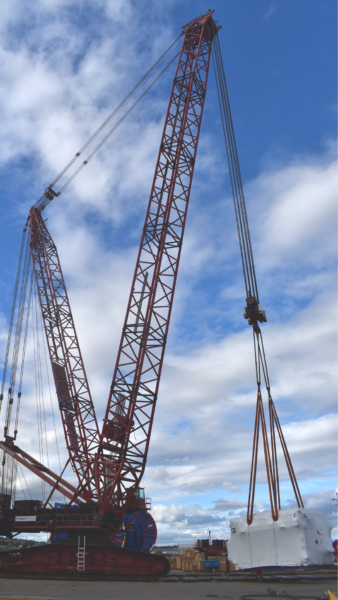 Brought by the Eems Servant vessel and arriving at our Neptune Energy Park on the 8th of June 2021, the Transformer and items were lifted and moved using the CC4800 crawler crane and the vessel later released that same day. A transformer of this magnitude cannot be transported using orthodox methods and thus Shepherd Offshore helped assemble a twin 16-axle girder trailer. The transformer now formed part of a 65m long trailer with a distributed weight of 218 tons.
Coming all the way from Croatia and discharged at Neptune Energy Park, the transformer went over the A167 Tyne Bridge and stopped in Gateshead. The combined weight of the transformer and trailer dictated that this could be the only vehicle on the A167 Tyne Bridge at any given time!
On Saturday the 12th of June, the transformer left Neptune Energy Park (redesigned for this specific scope) and travelled approximately 17.5 miles taking 5 hours in the process. Travelling in style the transformer had its own personal escort of police vehicles and all routes were planned to the minute detail with Shepherd Offshore playing our part.
Working with Mammoet Energy, they said: "a massive thanks to all Shepherd Offshore personal, for all their assistance in ensuring that the delivery was able to depart on Saturday without any issues. The delivery went well, and the transformer is now being installed at the site."
National Grid project manager, George Hawkings, said: "Transformers play a vital role in helping to supply electricity, without interruption, to millions of people. We recognise this is a busy route, but we've been planning this for months to make sure we can continue to deliver power reliably to the local area while keeping disruption to a minimum."