Our Services – Lifting

Plant & Equipment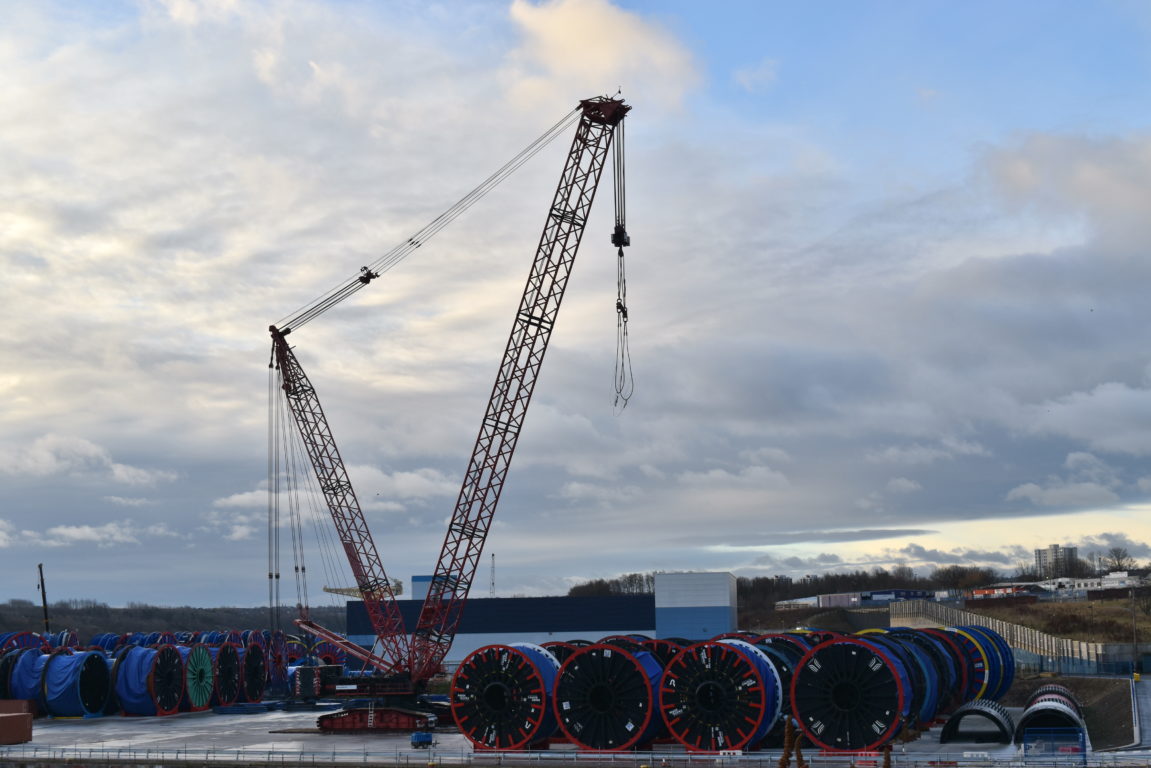 Shepherd Offshore combines experienced and skilled operatives, with a vast fleet of cranes, plant & equipment assisting in simple and complex material handling solutions available within and outside our deep water facilities.
Our management & technical team have extensive skills and knowledge, with an understanding that no two projects are the same for us. We have unrivalled product know-how and experience which allows us to provide industry-leading project management, one-off crane hire or contract solutions on any scale.
The company's capability & crane capacity are constantly evolving and solutions range in sizes from 30T rough terrain cranes & forklifts to 800T crawler cranes. Our highly skilled team are available for all our client's requirements including, site visits, to advise on necessary lift / craneage requirements.
We can lift heavy and complex loads and transfer goods, including 400T reels by road and internally reels up to 700T, around our dockside facilities, quayside storage and other riverside locations with ease.
Shepherd Offshore's logistics division includes both our in-house transport fleet and warehousing and storage provision.
Our capacity includes transport for normal and abnormal loads for the transfer of equipment by road, sea and air.
Heavy abnormal load routes service both Neptune Energy Park and Offshore Technology Park and provide direct access to major trunk roads, allowing the transfer of products of up to 400 tons.
Operating an ISO certificated Quality Management System we aim to provide the best service 24 hours a day, 365 days of the year.
Our capacity at-a-glance
Scissor lifts
Cherry pickers
Forklifts (1.5T to 32T capacity)
Bogeys
Escort vehicles
Low loaders
Semi-trailers
Extender trailers
Self-propelled modular trailers (SPMTs)
Jacking systems
Out-of-gauge loads
Normal, abnormal and complex loads
Tuggers
Basic, intermediate, complex and tandem lifts
Rough terrain cranes up to 45T
Mobile cranes up to 250T
Crawler crane capacity with SWL 800T at our Neptune Energy Park
Hammerhead crane with SWL 325T at our Offshore Technology Park
We're here to provide expert support for all your lifting & material handling needs whether it is lifting, jacking, hoisting, winching, transporting Shepherd Offshore is here to take the strain.
We're available to meet all your requirements, including site visits and advising on any necessary lift or material handling requirements.
We share good lifting practice with a very capable fleet and the capacity to add value to your project."
Daniel Thompson, General Manager
Talk to us
To discuss your lifting and material handling needs, call us on +44 (0)191 262 9614 or email headoffice@shepherdoffshore.com