Our Services – Marine Services

NEPTUNE ENERGY PARK DEEP WATER TEST TANK
In 2021 Shepherd Offshore completed the Deep Water Test Tank at what used to be the Neptune Dry Dock. The structure is comprised of two reinforced concrete retaining walls extending over 56 meters in length, 38 meters wide and a depth of up to 12 meters. This would give the Deep Water Test Tank a 23,600m3 of water volume and support by developed infrastructure-heavy lift capabilities and services on each side.
Positioned within a world-class manufacturing cluster, the Deep Water Test Tank is of strategic national interest. Neptune Energy Park offers a vast supportive infrastructure, ensuring high levels of on-sight capacity, as well as capability.
At-a-glance
Deep Water Test Tank/ Berthing facilities
Test Tank 56m x 38m
Over 750 metres of berthing facilities
Over 30,000 m ² of an adjacent concrete operational support area
Controlled access and egress
Heavy load bearing capability adjacent to deep water test tank
Heavy loadout quayside up to 700T lift capacity
In-house logistics, fabrication, rigging, plant, and cranage support on site
On-site warehousing and support areas
Dockside and facility cranage up to 800 tonnes capability
Mobile cranage up to 250T
Forklift capacity up to 32T
Marine support arrival and embarkation teams
Project management teams
Dedicated project offices, which include Internet connections, toilets and dedicated car parking.
ISPS security approved
A multi-million pound upgrade of the Deep Water Test Tank has included a new, adjacent concrete support area of over 52,000m ² that provides opportunities for high-value, load-bearing servicing projects.
Specific Dry dock Characteristics 
Length along: 56m
Width Along: 38m
Depth: 12m
Volume: 23,600m3
Rate of Extraction from the river at 300 Litres per second
Maximum Volume extracted per hour 1,080m3 up to 11 hours per day
Annually a 1,227,200m3 can be extracted equating to 52 times a year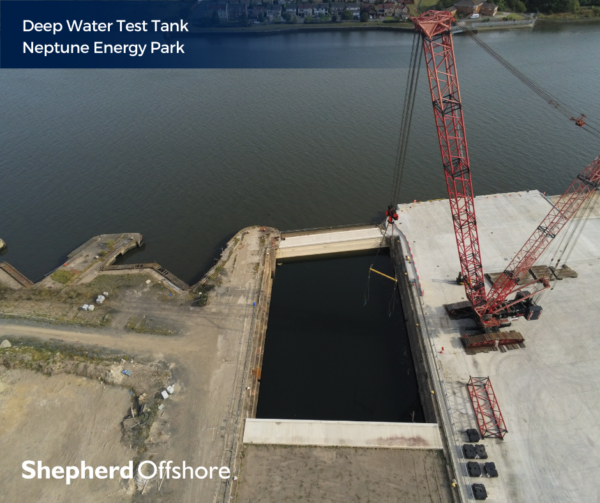 Experienced project support
Deep Water Test Tanks of this type and scale are critical to global industry and play an influential role in defining the UK's capabilities to service key sectors – including the energy sectors, oil and gas, large scale construction projects, and offshore renewables and decommissioning.
The expansion of our Neptune Energy Park facility has expanded our service offering, providing greater flexibility and allowing our clients to take on complex projects at the speed and standard that they deserve.
Now we offer two capabilities within our Deep Water Test Tank, utilising the lifting infrastructure to either drop tests into a full body of water or setting up the test and then filling within our methodology.
Our Deep Water Test Tank can accommodate
Subsea tests and demonstrations
Engineering, fabrication, research and development work
Large & small scale construction and infrastructure projects
Neptune Energy Park has contributed to some amazing projects in the past. In 2017, EDF and BAM Nuttal used the dry dock to build the world's first bespoke wind turbine gravity bases "GBF's"  and this was a huge success to all teams involved. Now it is time for the next chapter in unique facilites offered in this world class Energy Cluster on the river Tyne. 

Shepherd Offshore's plan is to remain supportive to the River Tyne North Bank Strategic Development Framework Plan (SDFP) by continuing to develop critical infrastructure and capacity. We believe the Deep Water Test Tank will continue to enhance the Neptune Energy Park facility and the regions expertise. Consequently, attracting even more businesses across sectors. Shepherd Offshore working with NELEP and NECA furthermore show a region unified, working harmoniously for growth in skills and expertise."

Charles Shepherd, Managing Director
With a successful recent history of high profile projects using the facility, the capabilities and experience of our teams are exceptional.
Security
Neptune Energy Park Deep Water Test Tank is located within Wallsend and has manned access points and patrolled security. In addition, the site has numerous internal security controls, supported by secure two-metre-high perimeter fencing and established ISPS certification and procedures, with dedicated security processes when required.